2017 Vintage Scores Release Newsletter
Dear Friends,
Every year we submit our wines for the industry's leading wine critics to review. It is both an exciting time yet also humbling as we see the incredible potential of this growing appellation. 2017 was an incredible vintage for us. We believe that wines should represent the place in which their lives begin- the vineyard. We are very proud to be able to exhibit a vineyard's potential and personality through each bottle we produce.
We have included a vintage review by Jeb Dunnuck. We hope these scores help guide you to find a Paul Lato wine that is most palatable to you. We are overwhelmed by the support we have received for this vintage release and would like to thank all of you for purchasing these wines. We are honored to have received 99 pts for our 2017 il Padrino! We have also included links to scores we received from The Wine Advocate and Antonio Galloni's Vinous.
With high demands since our release of these wines earlier this year, we are down to a dwindling supply of the 2017 vintage. If you would like to restock your cellar or gift giving for the holidays, we encourage you to do so before they are sold out.
Thank you again to all who have made this journey exciting and memorable.
Best wishes,
Paul


"I continue to be blown away by the wines of Paul Lato, and these are unquestionably some of the most profound and exciting wines coming from the Central Coast today. The lineup has grown substantially over the past decade, and Lato now releases upwards of five Chardonnays, six Pinot Noirs, two Grenaches, three Syrahs, a Sauvignon Blanc, and a Malvasia. Despite the number of wines, quality hasn't slipped an inch, and the wines show incredible site and varietal typicity always paired with sensational fruit and balance. In short, don't miss these wines!" J.D.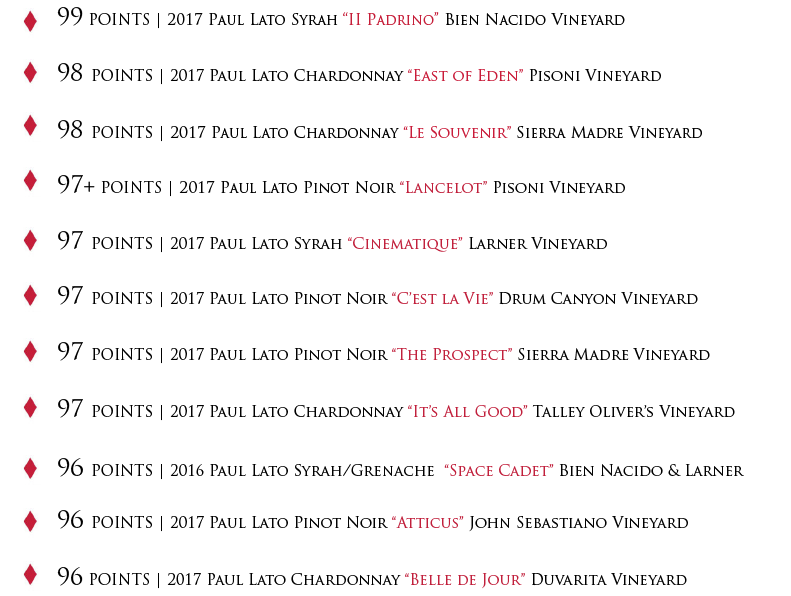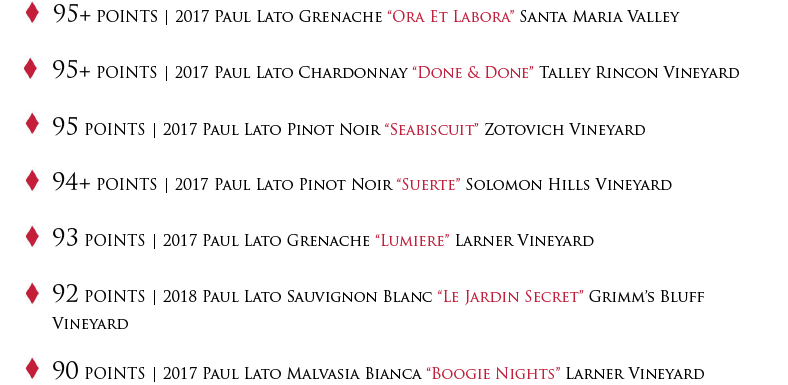 To view our 2017 Vintage Review by Antonio Galloni of Vinous, click here.
To view our 2017 Vintage Review by Robert Parker's Wine Advocate, click here.
If you would like to share this offer with your wine loving friends, the button below will take them to our online newsletter where they can order wine.

Sign Up For Our Mailing List